So you want to open an RESP and wondering if Wealthsimple is right for you? Then this post is for you.
Wealthsimple is Canada's most popular robo-advisor that currently serves over 3 million people across its different products.
The Registered Education Saving Plan is a tax-sheltered investment account that lets you save for the post-secondary education of your kids. Your contributions will grow tax-free while they remain in the account.
And you get some government grants like CESG and CLB that encourage you to take advantage of the account.
In this Wealthsimple RESP review, you'll learn about its benefits, account types, fees, how to open an account and how it compares to other RESP providers.
Benefits of Wealthsimple RESP
In addition to the government grants you receive on your RESP contributions, here are some of the benefits of opening an RESP at Wealthsimple.
No minimums: Start investing with as little as $1. This is perfect for those that will be making small, regular contributions to their RESP. Wondering how much you should contribute to your RESP monthly? Check the linked post.
Lower Cost: Wealthsimple offers a simple and transparent pricing that could potentially save you thousands of dollars over the life of the RESP account.
Convenience: With a managed account, you simply contribute to your RESP and the investment manager (Wealthsimple) will handle all the investment decisions – unlike self-directed accounts that require on-going management.
Related: Learn about DIY Model RESP Portfolio

---
RESP Account Types at Wealthsimple
So what are the available account types with Wealthsimple RESP?
Individual RESP vs Family RESP
The good news is: you can open both an individual RESP and a family RESP account at Wealthsimple.
Wealthsimple Individual RESP Plan
As the name suggests, an individual RESP plan is for a single beneficiary that may or may not be related to you. If you have only one kid or want a separate account for your children, this is the plan for you.
Wealthsimple Family RESP Plan
Family RESP plans let you name more than one beneficiary for the plan as long as they're related by blood. If you have more than one kid or plan to, then a family plan may be a good option.
With a family plan, if one of the beneficiaries decide not to attend a college or other post-secondary studies, the money can be used for the other beneficiaries.
Managed vs Self-directed Accounts
The RESP offering from Wealthsimple is available through its robo-advisor service, Wealthsimple Invest. RESP is currently not available on its self-directed trading app, Wealthsimple Trade.
This means you can only open a managed RESP account at Wealthsimple for now. In other words, there's Wealthsimple Invest RESP but there's no Wealthsimple Trade RESP.
---
Wealthsimple RESP Fees
The Wealthsimple RESP fees are simple, low-cost, and transparent. You'll pay the same management fees as the other Wealthsimple Invest account types.
There are 2 different pricing tiers depending on how much you deposit in your account:
Wealthsimple Basic ($0 – $100,000): 0.50%
Wealthsimple Black ($100,000+): 0.40%
There's a third plan, Wealthsimple Generation, for those with $500,000+ combined deposits. But you get the same pricing as Wealthsimple Black, just with extra benefits.
Read more: Wealthsimple Black and Wealthsimple Generation Review
In addition to the management fees above, the underlying ETFs the portfolios invest in will also have their own MERs. You can expect them to add another 0.10% to 0.20% to the total fees depending on the portfolio you choose.
Are there other hidden fees you should be aware of?
No, there are no trading fees, account transfer fees or rebalancing fees. So you can contribute as many times as you like and the money will be invested for you and rebalanced as regular intervals.
---
Available RESP Government Grants at Wealthsimple
One of the biggest benefits for contributing to an RESP is the grant you receive on your contributions. Unfortunately, some RESP providers may not administer all the available federal and provincial grants and bonds.
Below are the government grants that are currently available for RESPs opened at Wealthsimple:
Canada Education Savings Grant (CESG): A federal government annual match of 20% on the contributions to RESP. The grant is capped at $500 per beneficiary annually (or $1,000 if there are unused CESG room from previous years), with a lifetime limit of $7,200.
Additional Canada Education Savings Grant (A-CESG): Up to 20% match on the first $500 contribution per annum. It is only available to lower-income households. The CESG and A-CESG have a combined lifetime limit of $7,200.
Canada Learning Bond (CLB): The grant is also for lower-income families, but RESP contributions are not required to get the money. It pays $500 in the first year and $100 for each year the household remains eligible up to a lifetime limit of $2,000.
British Columbia Training and Education Savings Grant (BCTESG): Provides a one-time grant of $1,200 for BC residents.
Quebec Education Savings Incentive (QESI) is not offered at Wealthsimple for now and there are no immediate plans to support it.
Also, the provincial grant from the Government of Saskatchewan, SAGES Grant, was suspended effective 2018 so it's not applicable.
Related Posts:
---
How to Open RESP at Wealthsimple
The Wealthsimple RESP account opening process is completely digital – there are no paperwork involved. You'll be able to complete and digitally sign all the forms and documents online.
All done in as little as 5 minutes!
If you're an existing Wealthsimple client, simply login to your account to add a new RESP account.
New clients will start by creating a profile and answering a few questions about their financial goals, time horizon and account types. The information will be used to determine their risk appetite and provide a recommended portfolio.
You'll need to provide your social insurance number and that of each of the beneficiaries for the RESP to complete the RESP registration.
---
Wealthsimple RESP Performance
All things been equal, the performance of your RESP portfolio at Wealthsimple will depend on the level of risk you're willing to take.
That is, the higher the risk, the higher the expected return.
There are 10 risk levels – Risk Level 1 is the most conservative while Risk Level 10 has the highest allocation to equities.
Here's how 3 of the portfolios have performed in the last 3 years and from inception (Aug 20, 2014) to Feb. 28, 2023:
| | | | | | |
| --- | --- | --- | --- | --- | --- |
| Risk Level | Equity Allocation | 2022 | 2021 | 2020 | Inception |
| Conservative | 35% | -13.01% | 1.03% | 8.75% | 17.13% |
| Balanced | 50% | -12.81% | 3.94% | 9.16% | 26.70% |
| Growth | 80% | -12.00% | 11.15% | 9.75% | 51.37% |
The chart below shows the historical performance of the growth portfolio with 80% allocation to equities from inception to February 28, 2023.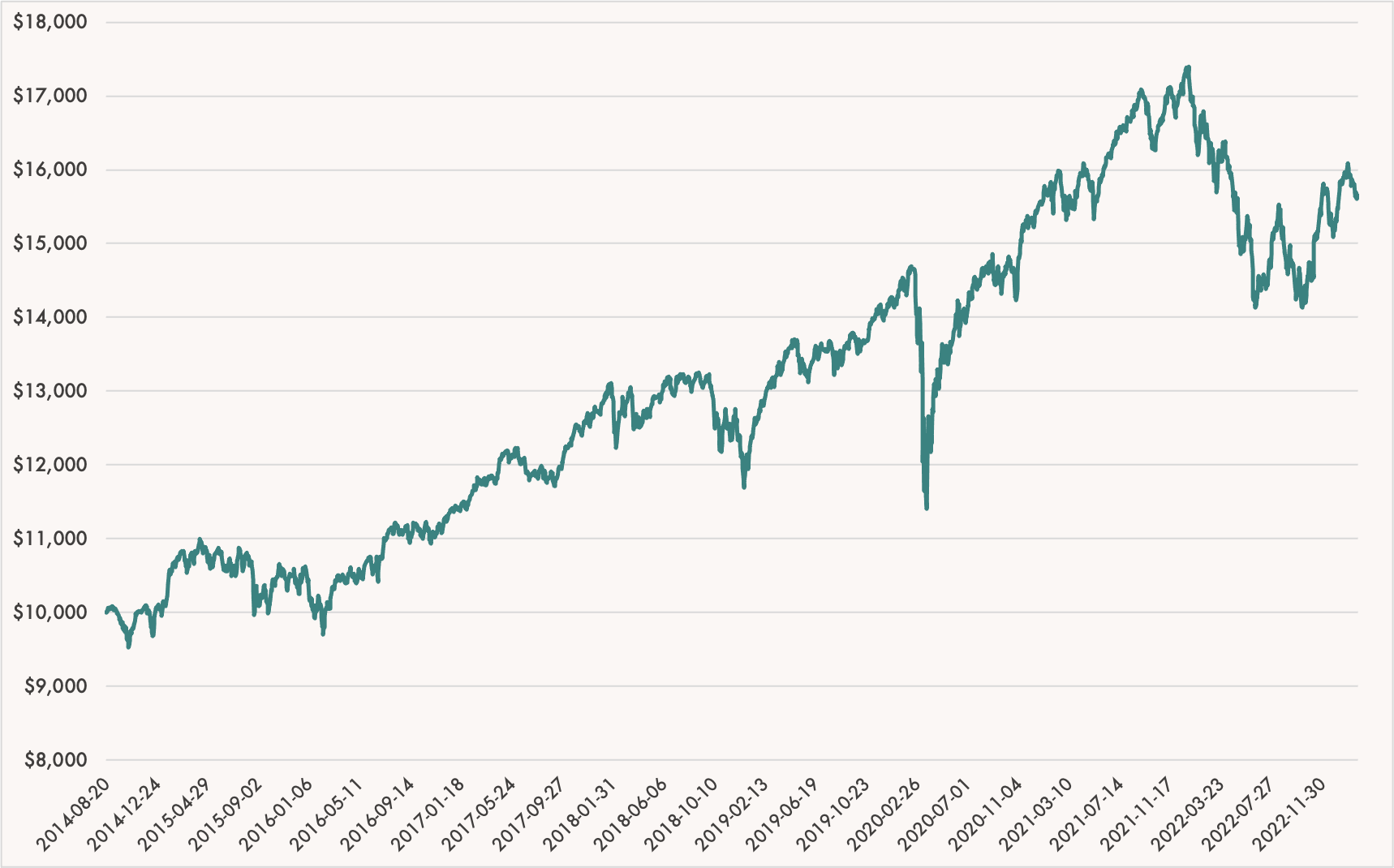 ---
Wealthsimple RESP Transfer
You can transfer your existing RESP to your newly opened RESP at Wealthsimple in a few simple steps.
Simply login to your profile, navigate to the Funding section and click "Transfer an account." Then follow the easy step-by-step instructions to complete and submit the transfer request.
According to Wealthsimple, the entire process will usually take 4-8 weeks. If you've transferred a TFSA or RRSP before, you may be wondering why the RESP transfer takes significantly longer.
Well, here's the reason:
RESP transfers are a little more complicated. The requesting financial institution will need to contact the sending institution to confirm the contributions and grants in the account before they can request the transfer.
And depending on what you hold in the former account, Wealthsimple may have to liquidate the investments to cash before investing in one of their portfolios.
A few things to note:
You can't complete the request via the mobile application for now. While this is possible with other registered account types like TFSA and RRSP, transferring an RESP requires more information. So you'll need to login through a web browser.
The beneficiaries for the RESP at your former financial institution must be the same as the ones at Wealthsimple RESP. That is, you can't transfer an RBC RESP for Child A, for example, to that of Child B at Wealthsimple.
Wealthsimple will cover your transfer fees for transfers above $5,000. The reimbursement will only cover the administrative transfer fees and not trading fees, commissions, account closure fees, Deferred Sales Charges or charges incurred during the transfer.
Related: Learn about TFSA and RRSP Transfer Fees
---
Wealthsimple RESP vs Other RESP Providers
Next, we'll look at how the Wealthsimple RESP offering compares to the other alternatives. Specifically, we'll compare it to Questrade and Justwealth.
Wealthsimple RESP vs Questrade RESP
Questrade is another popular, low-cost RESP provider. They offer both managed and self-directed RESP accounts.
Want an hands-off RESP account? A Questwealth Portfolio RESP may be the right choice. But if you're looking to make the investment decisions, then you can open a self-directed RESP account too.
So how does the Questrade RESP compare to Wealthsimple RESP offering?
Wealthsimple Invest RESP vs Questwealth Portfolios RESP
These two RESP accounts are managed offerings. That is, you'll be delegating all the investment decisions and on-going maintenance to the Wealthsimple or Questrade investment managers.
While Wealthsimple charges 0.50% for deposits up to $100,000, Questrade's management fees is only 0.25%.
| Account Deposit | Wealthsimple | Questrade |
| --- | --- | --- |
| $0 – $100,000 | 0.50% | 0.25% |
| $100,000 and above | 0.40% | 0.20% |
One other difference is how the accounts are managed.
Wealthsimple uses a passive investing approach, but Questwealth Portfolios are actively managed. Despite this, Questrade still manages to keep the cost low
Both companies will also cover your fees if you transfer your fees from other financial institutions
Read my full review of Questrade RESP here.
Questrade Self-directed RESP vs Wealthsimple Trade RESP
Wealthsimple Trade does not offer an RESP account just yet. Therefore, there's nothing to compare the self-directed RESP from Questrade to.
You can buy ETFs for free at Questrade, but it costs 1 cent/share (min of $4.95 and max of $9.95) to sell ETFs or trade shares. This is cheaper than what you'll pay at other brokerages.
But the fees can quickly add up unless you're building an RESP portfolio using ETFs that you buy commission-free. You can check this post for a model RESP portfolio built using asset-allocation ETFs.
Wealthsimple RESP vs Justwealth RESP
Justwealth prides itself as the only online investment manager that offers Education Target Date Portfolios.
With target date funds, the portfolio starts with a higher allocation to riskier investments like stocks. Then the risk is reduced gradually over time as the year your kids will start their post-secondary education draws closer.
This approach eliminates another investing decision from your end – you won't have to worry about the right time to make changes to your portfolio's risk level.
In terms of pricing, they both charge a management fee that starts at 0.50%. However, Justwealth charges a minimum of $2.50/month on RESPs.
Related Post: Learn about the best RESP providers in Canada
If you're wondering how the RESP at the Big Banks compare, check out this RBC RESP Review.
---
Is Wealthsimple RESP Safe?
When you open an account at Wealthsimple, you'll be joining millions of people already using one of their products.
Also, your funds at Wealthsimple are protected up to $1 million through the Canadian Investor Protection Fund (CIPF). In the unlikely event of a bankruptcy, you can be rest assured that you'll recover your money.
Finally, your data is protected and encrypted using some of the best encryption technology and two-factor authentication.
Some Wealthsimple RESP FAQs
Does Wealthsimple offer RESP?
Yes, RESP accounts are available at Wealthsimple's robo-advisor offering, Wealthsimple Invest. You can open an individual RESP or family RESP.
Can I open an RESP at Wealthsimple Trade?
RESPs are currently not supported by Wealthsimple Trade. However, you can open a TFSA, RRSP or Personal (taxable/non-registered) account.
How do I transfer RESP to Wealthsimple?
Login to your Wealthsimple account, navigate to the Funding section and click "Transfer an account." Then follow the simple instructions to submit the transfer requests. Note that RESP transfers typically take between 4 to 8 weeks.
What is the Best RESP in Canada?
Some of the best RESP accounts in Canada are from the robo-advisors and online investment managers. They include Questrade, Justwealth and Wealthsimple. Any of these RESP offerings is a great way to start saving for your kids' education.
Can I have multiple RESP accounts?
You can have more than one RESP accounts. However, note that the lifetime limit of $50,000 is per beneficiary and not per account. So be mindful of the limit when contributing to your accounts.
Final Thought: Wealthsimple RESP Review
Overall, this Wealthsimple RESP review is very positive. If you're ready to start "investing on autopilot" at one of the most popular robo-advisor in Canada, then you definitely consider opening an RESP for your kids at Wealthsimple.
Learn more about RESPs in the posts below:
Summary
Wealthsimple RESP offers a low-cost and convenient way to start investing towards your children's post-secondary education.